Our Vehicle Hire Services and Locations in Tasmania
Easy vehicle hire upon arrival
Reliable Vehicle Hire Services in Tasmania
LeisureRent is your trusted partner for exploring the breathtaking landscapes of Tasmania.
Our vehicle hire services are tailored to meet the diverse needs of travellers, ensuring everyone finds their perfect ride. From the coastal roads of Hobart to the rugged terrains of Cradle Mountain, our extensive fleet ensures you travel in comfort and style.
With multiple convenient locations spread across Tasmania, picking up or dropping off your chosen vehicle has never been easier.
Dive deep into Tasmania's rich culture and pristine nature with LeisureRent. Experience the best of what this island has to offer with our vehicle hire services.
Explore Tasmania with LeisureRent's automatic campers, tailored for couples! Starting from Hobart or Launceston, enjoy the freedom of flexible returns. Our campervans boast a cozy dinette-turned-double bed and a fully-equipped kitchenette. Plus, eco-friendly solar panels keep you powered up on your adventure!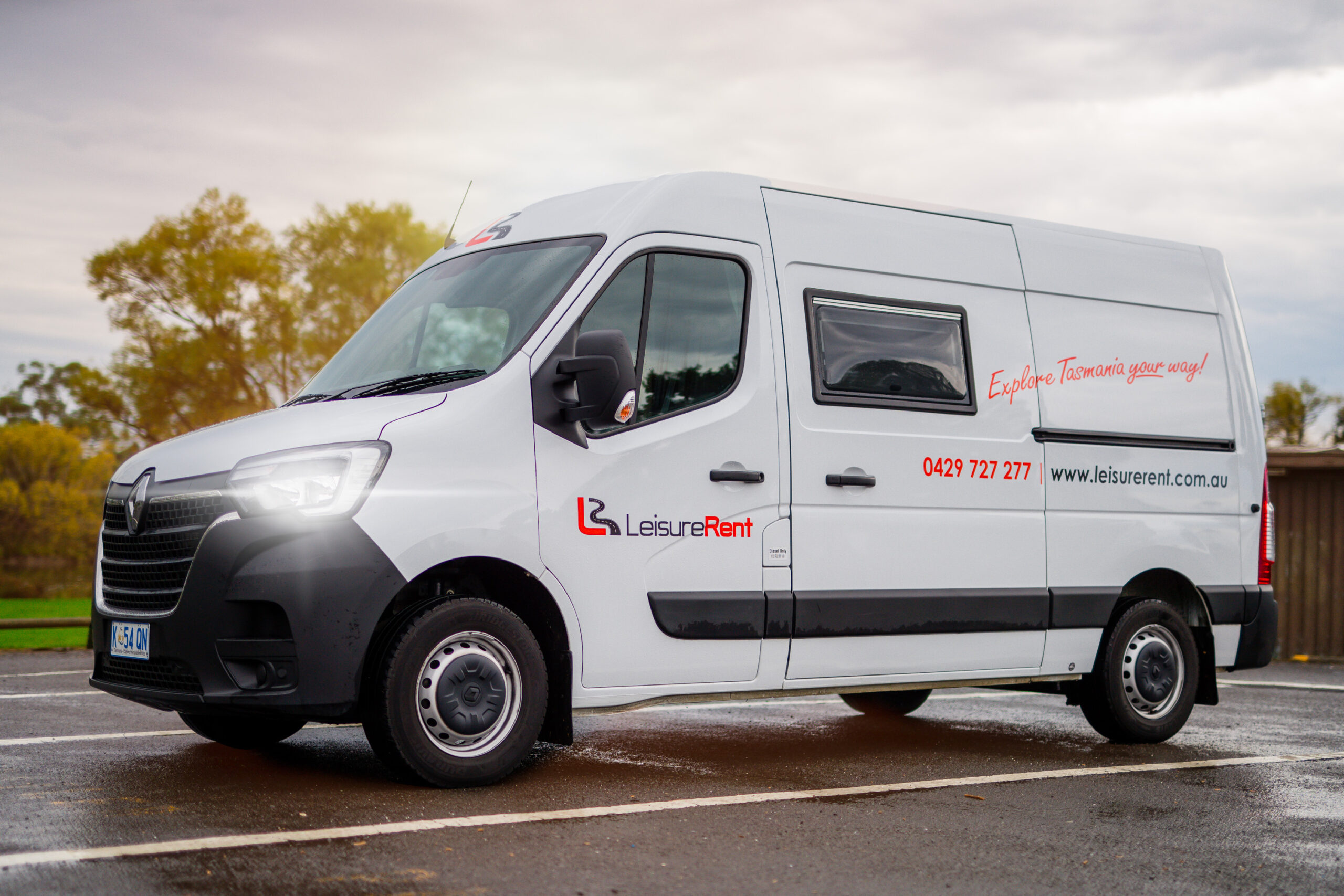 LeisureRent presents the automatic Campercar, a fusion of car convenience and camping luxury. Built on the fuel-efficient Renault Kangoo Maxi Diesel, it's perfect for two. While it's compact and not stand-up friendly, it boasts a transforming dinette to bed feature. Amenities include a 2-burner cooker, a 20-litre fridge, solar panel, roof pod, rear awning, and essential charging and lighting facilities. Connect to caravan park power for 240-volt outlets.
LeisureRent's 4 Berth motorhomes, designed for ultimate convenience, can accommodate 4 adults or a family of 4, ensuring child safety with two rear anchor points. With a queen bed upfront and a convertible rear dinette, comfort is guaranteed. From Hobart to Launceston, our branch flexibility allows easy rentals. Fitted with essential amenities and a solar panel, cleanliness upon return is vital to avoid extra fees.
LeisureRent provides the latest compact and SUV vehicles, ensuring unbeatable prices. If you spot a better deal on a similar car, show us via screenshot and we'll aim to outprice it. Enhance your journey with available child restraints and GPS. Rent from Hobart, Launceston, or Devonport and enjoy drop-off flexibility.
OUR AIRPORT LOCATION PICK UP POINTS
Hobart Airport, located 17km northeast of Hobart's city centre, serves as the primary gateway to Tasmania. As the island's busiest airport, it facilitates both domestic and limited international flights. Recent upgrades have expanded its terminals and services, reflecting its growing importance in connecting Tasmania with mainland Australia and beyond.
About Hobart
Hobart, which is also the capital city of Tasmania, boasts a rich history and natural beauty. Founded in 1804, it's Australia's second-oldest capital after Sydney. Situated on the Derwent River, the city offers stunning waterfront views, especially from the iconic Mount Wellington.
Pick-up and Drop-off Location Point: Unit 6/14 Kennedy Dr, Cambridge TAS 7170
Launceston Airport is situated roughly 15km from Launceston's city centre in Tasmania. As the state's second busiest airport, it primarily handles domestic flights. Serving as a vital connection point for northern Tasmania, the airport boasts modern facilities and plays a crucial role in the region's tourism and commerce sectors.
About Launceston
Launceston, located in northern Tasmania, is the island's second-largest city and has a blend of natural beauty and rich colonial history. Founded in 1806, it's one of Australia's oldest cities. As a hub for the Tamar Valley wine region, Launceston also plays a vital role in Tasmania's renowned wine industry.
Pick-up and Drop-off Location Point: 2 Hudson Fysh Dr, Western Junction TAS 7212